Pygmy Watermelon w/Chinese Cleaver




Saturday I manned up to a pygmy watermelon. Recently I'd purchased this fruit, thinking it was a Tuscan melon. I had in mind to prepare melon with prosciutto and fresh mint, per Chef Maili's recipe. (Mint is the elevating touch). However, I discovered later it was not a Tuscan melon (even though, hello, it had green stripes like the recipe said!) So I rolled it into the fridge and ignored it, thinking it would go away. But every time I opened the fridge, it squatted there all striped and pert, beseeching me. So Saturday I took pity, plunked it on the cutting board, pulled out the Chinese cleaver a man had given me one birthday long ago, and cut it in half. Wait one stamp-lickin' second. Where were the black seeds I remembered from watermelons of yore? Did pygmy watermelons not have them? Had the traditional black seeds been bred out? If so, why? By the way, in case you want to give someone a big old knife on their birthday, you should know that the Chinese consider this not only bad form, but bad luck. Whether that man long ago knew this, hmm, we can only speculate -- as we chop.
Instead of eating the pygmy watermelon -- which I dreaded since I've never liked melon, least of all watermelon -- I sliced and arranged it on the cutting board.
Stop playing with your food and just eat it already,
said the voice in my head. Plus I felt it was my duty to give all foods their chance now I was on this cooking odyssey. Perhaps in my new expansive cook-mode I would taste something I'd missed before. So I ate the thinnest sliver (see proof in pic above) -- and what do you know, it wasn't bad. Biting into the fruit yielded a refreshing, watery burst of almost flavor.
Pygmy watermelon goes mod!
I realized some people might have yet a greater appreciation for the subtleties of the fruit, so I put the other three slices on a plate and carried it up to...
About to interrupt Angel
...the guy working on the upper part of the house, Angel.
Angel at my table




I guess Angel liked that pygmy watermelon, or
sandia
as he called it, which admittedly sounds more appetizing. Even poetic. Not only did Angel come down with the empty plate and a smile, but he fixed the screen door which hadn't closed properly in months. When I asked Angel why, he told me the door didn't fit any more. He showed me how the lower portion of the door had what amounted to an overbite. What?
"Houses, they move. They don't stay straight," he said.
Dutch tumble house
And it hit me: that's what I felt like. A house shifting on its very foundation. Adjusting, sometimes not fitting, but stretching toward a new shape.
Eli Zabar outside his E.A.T. cafe, circa 1982
The year was 1982. I had just completed my freshman year at college when Eli Zabar hired me to work at E.A.T.,
"You idiot!" screamed Eli, his pale blue eyes flaring. "You go to Yale? You've got to be fucking kidding me! Get it right! Customers are coming in half an hour!"
Klaus Kinski, "Fitzcarraldo"
Eli swore by the Angriest Boss In The World model. The early 80s was a time of swagger, casual violence and cruelty in the workplace, and boatloads of cocaine. Eli -- who looked like the cousin of another madman, Klaus Kinski -- was furious in his pursuit of perfection.
Elizabeth Ray, former mistress, aspiring actress/comedienne (didn't pan out)
Another time, the infamous political mistress Elizabeth Ray called to place an order for a small linzer torte. One. She sounded in a rush. The order seemed odd to me, but then, it was Elizabeth Ray, the woman who'd brought Congressman Wayne Hays to his downfall in 1976. Who declared "
I can't type, I can't file, I can't even answer the telephone
." Who was I to question? She had her appetites. I hurriedly chose the most perfect linzer torte I could find, fussed and worried over the decorative raspberries, their size, their symmetrical placement, the texture of the latticed crust, whether there were any nicks or crumblings, were the preserves a seductive ruby-color -- then, satisfied, packed it carefully in a pastry box. Delivered it to Eli. Eli didn't even look, hurled his keys at me.
"Take the van. Get the tart to Elizabeth Ray in
perfect condition
-- and be back in half an hour.
Go
!"
"Your tart," I said.
"You're late," she said. "Give it to me." Then Elizabeth Ray opened the box. She squinted, her brow knit into an ugly line.
"This is the wrong size!" she screamed. "You stupid girl! This is a
small
linzer torte! I ordered a large one! I'll have your head!"
"Let me fix it," I said, every organ pulsing and pounding. "Please. Let me..."
"Wait 'til Eli hears about this," she said, and slammed the door. Bolts, latches and chains slid ominously into place. For a few minutes, I sat on the floor holding the pastry box in my lap with sweat-stained fingertips, unsure what to do.
When I returned to the cafe, shaken and terrified I'd be yelled at, lose my job -- Eli laughed. You never knew what would piss him off and what would amuse him. Although he himself was extravagantly rich for the times, with his own private plane, houses everywhere, a habit of jetting off to France for things like weekend cheese-buying trips, still, he did not consider himself part of the wealthy class. And oftentimes he would delight at their distress and indignation.
there were no prices on anything
. When I was serving up plates of hand-picked international delicacies from the perfectly groomed case, I had to improvise prices on the spot. Our job was to invent them according to whim. I think Eli got a kick out of this. Not only were we constantly on edge, pressured to create pricing, but the wealthy customers often got hoodwinked or straight-up cheated. For Eli, it was win-win. When customers complained they got charged more than another customer for the same items, we made up stories. But sir, what I served madam was made from day-old malassol caviar. Yours was delivered fresh
this very morning
.
no lunch breaks.
If we were hungry, we could stuff our faces with whatever we liked -- and keep working. Many times I had to swallow a mouthful of unchewed veal shank or half-masticated leek and bacon quiche so I could wait on a customer.
Scarface
Probably co-workers were doing a lot of coke, but I was geeky, so concerned about doing the job well, I guess no one offered it to me.
When I found out E.A.T. stood for Eli and Abbie (his wife) Together, I almost choked on my chicken curry. Imagining Eli married stupefied the brain. Imagining him romantic resulted in complete neural short-circuiting.
John Belushi, "Samurai Sushi Chef"
Others cook out of anger. Often times they didn't have enough to eat growing up, or no one paid attention to food. Looking back, I realized Jerry was cooking from a deep rage. He might be back in his cave, sweltering, limping, spewing invective over the hot stove -- but the dishes he brought forth were always valiant and skillful attempts at perfection. And in the delicately pouffed souffles, the lamb so tender it melted from the bone, the artfully formed petit fours, perhaps he found redemption. Maybe he was hoping if he created the perfect dish, his body would become whole, too.
Back to Saturday, and that buttermilk that was about to ruin. Time for another batch of buttermilk and blueberry pancakes!
When I poured out the buttermilk, I realized I only had 1 1/2 cups. Uh oh! The recipe called for 2 1/2. I had to think fast. It was already nearing 1pm. I was meeting a friend to see "Eat, Pray, Love" at 4pm. I hadn't eaten except for a few slivers of pygmy watermelon. I had to finagle the recipe to make it work -- and trust. Even though baking is closer to an exact science than stovetop cooking. You had to measure and calibrate or things could easily go flooey. Time to let go of perfection. Time to improvise.
Satchmo
I reduced various measurements on the fly. 4 eggs would be 3. 2 cups of flour would be 1 1/2. 3 tablespoons of butter, not 4. And so forth. I made sure to avoid mixing the dry and liquid elements too much so the baking soda could work and the cakes would rise in the skillet.
Whoops!
Then I tried two spatulas, and voila!
Bingo!
I knew I'd have to cook all the pancakes, even though it was just me. Batter doesn't last; this I'd learned from checking with Maili. Better cook them all, and freeze the ones you don't eat. You can easily defrost and heat them up in the oven. I've done it and they're still delicious...
part
of the fun.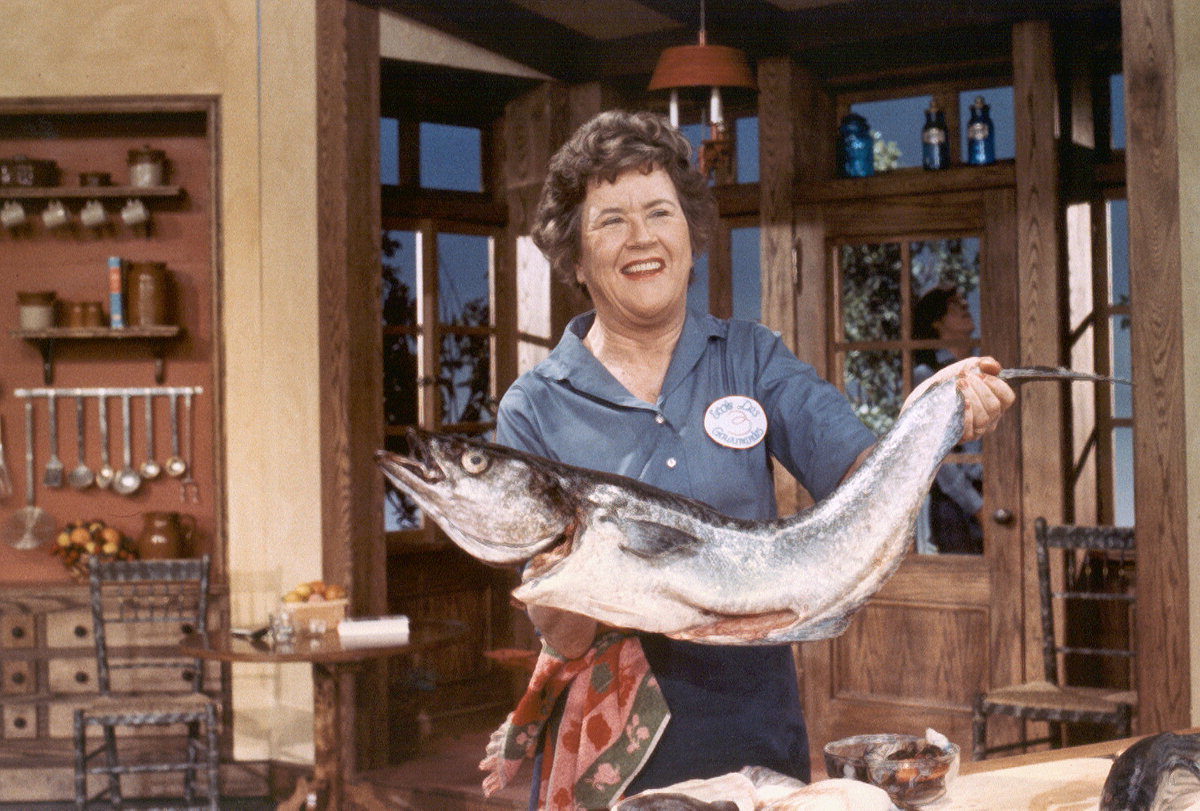 Julia Child with big ol' fish
I thought of Julia Child whose TV show I watched now and then when I was a kid. The cooking didn't interest me as much as her improbable height, the absurdity of the apron, her exuberant comic gifts. The one scene I recalled vividly was Julia, cheerful, towering over a kitchen island, blithely and zanily chopping a floppy fish.
"First, you've got to cut it up with your big knife," she said in her odd, melodious voice while drinking a glass of wine.
Then she slashed -- and the fish head flipped into the air and fell onto the floor. Without hesitation, Julia swooped down, picked up the slippery fish head, and put it right back on the cutting board.
Here is one of her most famous quotes:
"The only stumbling block is fear of failure. In cooking, you've got to have a what-the-hell attitude."
If I can cook, anyone can.
RR
xo