Grapefruit, coming to get you
This story begins with grapefruit, as all good stories do.
Joanne Mariner, outside her round house, newly renovated
A temporary neighbor, Manhattanite Joanne Mariner, current director of a terrorism/counter-terrorism program at Human Rights Watch and former resident of Topanga Canyon, lived nearby this summer and we got to know each other through a mutual friend.
Tooth-puller, Djemma-el-Fna, Marrakesh
She is also an avid traveler, as am I (when I can afford or finagle it somehow!), so we talked a lot about places we'd been, about rosewater, mouth-watering dates and tooth pullers in the marketplaces of Morocco, about decadent fallen maharajahs and tigers in India.
Hollywood Blvd. after 1994 Northridge Earthquake, around corner from my then apartment
"You can't see them in town here, either. I remember the only time I saw them was after the earthquake in 1994 when I was living in Little Armenia near Fountain and Normandie. The city screamed with the sound of falling bricks and a thousand car alarms, and the stars blazed. It was strangely beautiful, even when people left their houses and walked down the streets, dazed, wrapped in their bedclothes."
The Poetics of Space
, about the connection between refuge and intimacy. "We are hypnotized by solitude, hypnotized by the gaze of the solitary house; and the tie that binds us is so strong that we begin to dream of nothing but a solitary house in the night.
O licht im schlafenden Haus!
(O light in the sleeping house!)" What was I really hungry for?
Jane Morris, seated from The Spiral Staircase blog of writer Sarah Deming
"My house is right near that one," she said, and I could tell she was in revery though she was private about it, and we didn't know each other all that well yet. Joanne was staying in the house up on Tuna Canyon where she spent some formative young years.
Iconic Topanga house, formerly a watertower
The Mariner house is round. I meant to ask her what it was like to live in a round house, whether the shape affected her somehow, informed her state of mind, but I didn't get a chance before she left town. It used to be a watertower. Joanne's mother rents it out and Joanne chose to be a good daughter and oversee renovation. Actually, resuscitation. It seems the previous owners allowed their cats and dogs to urinate and defectate inside the house. This is Topanga. This is America. There abound many weirdos.
Terry Zwigoff's "Crumb" documentary poster
For me, the stellar documentary "Crumb" about comic genius R. Crumb and his wacky family depicts the America I know, features the families I recognize. We attract them in the canyon. The lost ones, the seekers, the sub-dwellers, the rich and deluded, the rich and enlightened, the artists, the dreamers. The progressive young families, the aging horny divorcees, the sometimes fallen-into-obscurity rockers, the bald German endurance equestrians/fortunetellers, the paranoid thespians, the rustic-minded, the neo-hippies, the altered-state fanatics. Perhaps this woman with hydroponic breasts was a porn star fallen upon bad times. Perhaps she was a meth-addled failed veterinarian from Pacoima. What we do know is that the house hygiene took a turn for the worse after her construction worker husband left her and rent payments stopped.
"He's crushing on you," I said, but Joanne demurred.
"You can have them, " she said. "I hate grapefruit. Maybe you can invent something to make using grapefruit."
Brown Derby Grapefruit Cake
.
Chef Maili's Grapefruit-Candied Fennel Salad: Photo by Elizabeth Messina
And yet, the fantasy of grapefruit already had me in its citrus grip. I would find other grapefruit. Who can explain inspiration, or question once it's taken root? Your job as a writer, as a cook, as someone seizing life, is to follow. To stalk.
Chef Maili making veal lamb crust (Photo: Lauren Mann)
Once again, I tracked down the ever-busy Maili. This time, even though she'd never written up the recipe (she has hundreds she invented and hasn't had time to document!), she banged out a quick recipe for candying fennel which follows:
CHEF MAILI'S ON-THE-FLY CANDIED FENNEL INSTRUCTIONS:
make a simple syrup (one-to-one sugar and water). sauce baby fennel or larger pieces of regular fennel with a pinch of salt. but you want a "chunk" of fennel as opposed to thin slices. saute in hot pan, olive oil and pinch of salt. turn down heat after first minute. then add simple syrup. in this case you are going to also add orange juice or blood orange juice or grapefruit juice since that is taste of this salad. (when I make a lemon fennel viniagrette for the early summer salad I do with warm apricots and cherries). the candied fennel will taste great on its own but then you can use drippings in pan in your vinaigrette.
Chef Maili's Balsamic Vinaigrette
(subsitute blood orange-avocado oil), and sent a photo of the perfectly executed salad which she'd invented for an intimate Jimmy Choo event in 2006 (see above). The ingredients: candied fennel, segmented grapefruit, sliced avocado, grilled lobster, mixed baby greens, blood orange-avocado vinaigrette. I was hooked. Wouldn't you be? Even a pale rendition might delight.
was
anise fennel? I forgot. Finally, I asked the produce guy. He looked at me funny, pointed out the fennel and said Good luck like he thought I needed it.
Tartar warrior
Since he seemed so knowledgeable, I asked him where to find cream of tartar too. He pointed me back in the direction of the baked goods aisle where I'd already wandered aimlessly -- but gave me a clue that it was in a small container. That's when I finally saw it in spices. Who knew? All I knew from tartar was tartar sauce for fish and Tartar warriors.
Cicciolina campaigning in Piazza Navona, circa 1987
Anything that calls for blood oranges suited me. Ever since I lived in Rome, from 1987-1989, during the time when porn star Cicciolina ran for mayor and campaigned by strutting topless around the Piazza Navona with a parade following her, I was obsessed with blood oranges.
Arancia Rossa, blood oranges
They were one of the first new mind-blowing tastes I encountered in a city I would eat my way through in the following two years and return to the States with high cholesterol.
Campo dei Fiori market, Rome
I remember buying them from the farmers market in Campo dei Fiori, every Saturday I think it was (or no, was it every day?!), skirting the brooding statue of Giordano Bruno, avoiding always-wasted Beat poet Gregory Corso who was not yet drunk in the gutter as he would be later that afternoon once he'd genially accosted as many women and girls as he could. I remember peeling the orange and wondering at the blood-red flesh, the edible sunset in my hands.
There remained the matter of a sifter. I hit Sur La Table on Wilshire, found a sifter. As I pulled the sifter trigger, I remembered operating one of these when I was a kid. For what, I don't know. But the action alone transported me. I also bought a cake pan. Though the recipe called for a 10", they only had 9" size. I figured I had what I needed.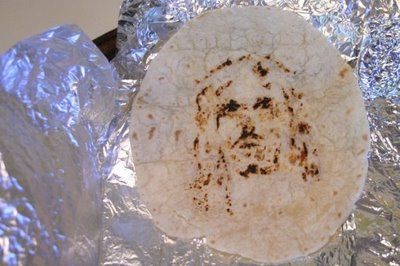 Jesus tortilla from Luke Ford's (ir-)reverent site
Maybe I am just hungry for the sacred, and I'm the type who'd see Jesus in a tortilla if I believed in Jesus. One reason travel rouses me is that I find connection to the sacred somehow easier in other countries, other cultures. Or I did. Why does the food taste better abroad? Why does life seem sweeter? Maybe that's one reason this new venture's bringing so much unbidden, unexpected joy. I'm summoning delights into my own home, and sharing them with others. Opening the doors. Perhaps one part of this cooking journey connects to finding the sacred, teasing out the life force of one's own hearth. Creating a hut that glows in the darkness.
Watched a vid per Maili's suggestion on how to segment citrus. Still working on it, but this one made it possible, even though I didn't get rid of all the pith.
Chef Higgins Demonstrates How to Peel and Segment Grapefruit
Shot other pics of cake-in-process, but suffice to say -- I messed up by using that groovy motorized handmixer for the batter. Maili's voice was in my head, reminding me not to overmix
any
batter with baking soda or it would affect the rising -- but I zeroed in on "blend until smooth" in the recipe. So while the cake came out beautifully -- it hadn't risen as much as it should. Still, I was proud. As you would be with, say, a three-legged dog who gamely dashes to catch a frisbee.
Somehow it looked like an organ, a Mexican
corazon
with pulsing ventricles like you see on the
loteria
cards, only green. I stood it on the deck railing and mused. When I posted this fennel pic on my Facebook profile, along with a swooning praise of it in its rough then candied form, it garnered 20 odd responses.
I wasn't s'posed to pour in oil
! You're supposed to slowly pour it through the hole on top of the blender so the mixture emulsifies. (What does that mean? Some kind of transformation, no doubt).
Then my taster/dinner guest arrived.
When she arrived, I was still staring at the fennel trying to decide how to cut it.
"Quarter it," she suggested. That worked.
"How bizarre! Did you read my recent blog post about farmers markets and the Palisades Park rose garden?" I asked.
Gaudi dragon vertebrae, Barcelona
As I prepared the fennel for sauteeing then candying, Janet prepared an additional appetizer -- a Barcelona recipe she'd learned from a friend which included proscuitto, artichoke, olive oil, salt, garlic and shaved Reggiano parmesan.
RR
xo