New Rice to Riches store in NYC


My mother
could
make one tasty dish: rice pudding. When Chef Maili posted that today was National Rice Pudding Day, the memory returned in all its mouth-watering glory. This time a pleasant memory! Same funky Manhattan apartment, me at three peering into the oil-splattered oven window watching the rectangular pudding bubble and bake. Drooling. I was born around dinner time, ready to eat. Or was it breakfast? Anyway. Meal time. So food excited me even then.
New Orleans bread pudding
Synchronistically, my writer friend Nicole sent me snaps of a groovy Manhattan rice pudding store called
Rice to Riches
just yesterday! She and her spouse visited the shop in search of the perfect rice pudding. Her spouse hails from restaurant roots back in New Orleans. His family, though, preferred bread pudding in the rich, traditional style -- with chantilly cream laced with lemon, drowning in whiskey sauce. Nicole promises to give me the recipe when she gets home so to be continued...
Speaking of New Orleans and appetites for destruction and gluttony, I have a friend, the brilliant cook (also fabulous writer, Porsche mechanic and former street car racer, Lou Mathews) who always said that he never visited New Orleans because if he did, he'd never come back.
He'd be found dead crashed in a ditch in a vintage green Chevy Camaro, a gorgeous trannie sprawled next to him on the seat, bottles of drained Maker's Mark rolling around on the floor, and him in the driver's seat with a swollen liquor-saturated bellyful of beignets, crocodile and crawfish etouffe.
In some ways, I think over the years I grew afraid of my demanding appetite for food, love, sex, thrill. As an addict, I've always been an extremist, swinging from one glittery end to the other, unable to rest in the middle with my bare feet planted on some kind of ground. Unable to eat just one, or to restrain myself when a lover magnetized me, or when that same lover grew cold after it became clear my needs were emotionally insatiable. Bottomless.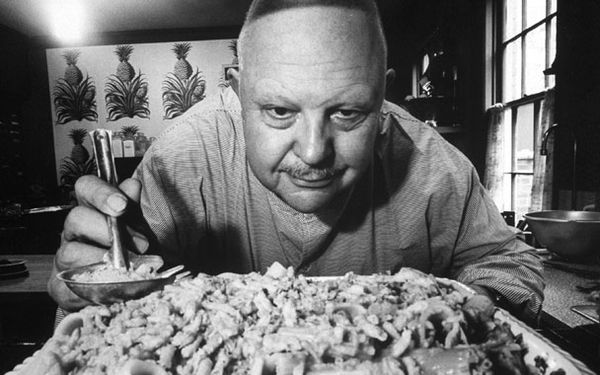 James Beard, cooking
But then, at age three, I was simply filled with innocent anticipation and hunger.
Rice pudding
. I have a vague memory of the pudding appearing in one of my beloved childhood books. What characters worshipped at the bowl of rice pudding? Was it Christopher Robin? Mr. Toad? Since my mother is dead many years, and I'm not currently speaking with my father (who plays a large role in my history of food which we will get to soon), I've got to conjure this pudding myself. Surely my mother got the recipe from somewhere. The only cookbook I recall her owning was James Beard's bread book. Now we have a mystery. One that can perhaps activate my skills as a Silverlake private investigator, a job I held for one exotic year.
Baked rice pudding w/raisins
What I do remember is the intoxicating scent of plumping raisins, of baking egg and sugar, and the first steaming bite with its satisfying mix of rice grains, egg custard, baked crust and fat dark raisins exploding in my mouth. So what if it burned. Even at three, I could've eaten the whole glass casserole dish full. The ritual of rice pudding, however rare, made the kitchen glow golden. It was almost as good as what I imagined my mother's hand would've felt like, resting there on my head. Motionless for one sweet moment.