"American Progress" John Gast, 1872
This is the tale of two women who came West, inspired by their parents, their own Manifest Destinies, true grit, and relentless longing for that desert-meets-the-sea shimmer.
Tree in misty lake, by Delgaudm
Of roots and rootlessness, of the history of the West,
My mother owned this album, and it deeply infected my young girl's mind
It's Labor Day weekend. To celebrate, I'm laboring. Never let it be said I'm not patriotic. Perversity rules, and when others return to work, that is when I'll take a vacation. Or a breather, anyway. For now, it's blood, sweat and tears as I continue to jam on this unexpected journey into the clattering land of bubbling pots and pans and even the piggish siren call of bacon grease. Perhaps after this post, I will even try my hand at a recipe for Cowboy Biscuits from 1922. Because I have yet to figure out something for which to use that bacon grease. I'm also considering trying it in a cake, the way Southerners do. Here's the recipe. Let me know if you try it and I'll do the same!
"Baking powder biscuits
3 cups flour
6 teaspoons baking powder
3 tablespoon fat (lard or bacon drippings)
Approx. 1 cup of milk
1 teaspoon salt
1 tablespoon sugar
Sift together dry ingredients, then rub in lard with fingertips, until flaky. Pour about a cupful milk to moisten. Turn out on well floured board and pat about 1/2 inch tricknesss. Cut with biscuit cutter and place in greased dutch oven that has been slightly preheated. Biscuits should be touching but not crowded. Place preheated lid on oven and cover with hot coals. Place on bed of good red coals and let bake about twenty minutes or until brown on top and bottom."
--Clair Haight, Hashknife Outfit, Winslow AZ, 1922 (reprinted in: Chuck Wagon Cookin', by Stella Hughes [University of Arizona Press:Tuscon AZ] 1974 (p. 123))
Chef Maili Halme Brocke
To recap, this journey began with a rip-roaring, steam-shooting, knife-slicing catalyzing bang -- the life-changing first cooking class with Chef Maili Halme Brocke on June 10th, courtesy of my dear friend of twenty-five years, Anastasia. Then Chef Maili, amused and perhaps overwhelmed by the deluge of idiotic basic cooking (and other ridiculous, non-commonsensical) questions I streamed her way, suggested she either gather all my questions together - kind of as a primer for seriously spaced-out clueless non-cooks -- or
maybe I should write a book about my journey
. How cooking changed your life at middle age. Something women's mags would appreciate.
Love Junkie on Kindle
, I'd run out of creative steam as sometimes happens when you've been activating a side of yourself that's antithetical to the meditative slow-moving, deep-drilling self that mines material for the actual page. I was afraid I wouldn't find inspiration again. That it was over, kaput,
finito
. This gave me hope, even if her concept was something on which I'd have to chew.
First hors d'oeuvre: Tuscan melon w/Proscuitto & Fresh Mint (Chef Maili's secret weapon!) on stolen Yale dining hall plate
The next day,
Deanne Stillman
came to eat. I wrote about our feasting earlier, in the August 5th post, "Brown Bananas: Think Twice Before Tossing." What I didn't write about was how Deanne was instrumental in reformulating the project-in-process then -- a project more like an improvised recipe with crucial chefs along the way. Now's the time to acknowledge one of those chefs.
Deanne, ever blunt and sage, instantly disabused me of the midlife angle as she powered through the fresh banana bread.
Second hors d'oeuvre: Medjool dates w/Goat Cheese & Smoked Apple Bacon blurry 'cuz we'd already scarfed a whole plate
"Take it outta the women's mag ghetto...this isn't a census report...your audience is much bigger."
Main course: Leftover Triple Citrus Tiger Prawns w/Thai Chili Sauce over Cucumbers
Deanne was adamant about shifting direction, widening the audience. She went on to remind me, duh, that the zeitgiest was currently swarming with cooking shows, food channels, iron chefs, people staying home to eat 'cuz of the recession, and and on. Timing was ripe. She made sure I understood, hello, late as I was to the communal table, there was a seismic cultural shift underway. Others would gobble up the stories from the pov of a clueless non-cook -- especially a former love junkie turned culinary virgin. She chuckled. Why
don't
you know how to cook, anyway. Then she asked me this:
How To Solar-Boil Water for Tea at Burning Man
"Didn't your mother at least teach you how to boil water?"
wonder
I couldn't cook!
The Art Of Eating
which is equal parts food and food as metaphor for life. A book that awes and intimidates. A book you want on your side. What about "The Art Of Boiling Water"! I blurted.
Deanne w/background of, no not sheep, barrel cacti! (Photo credit: Mark Lamonica)
Deanne nodded, popped another Triple Citrus Tiger Prawn w/Thai Chili Sauce in her mouth (why eat forward when you can eat backward?!) Thus the new angle and new title was born -- for the blog, and perhaps for the book-to-be.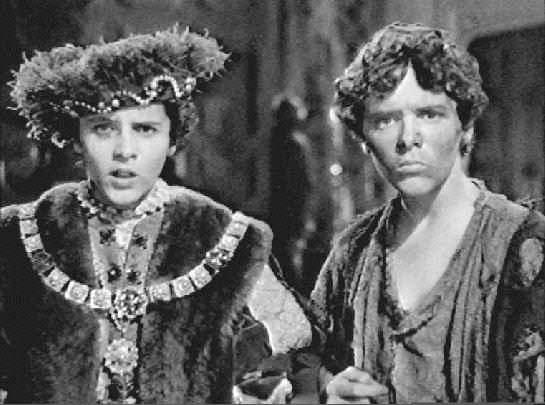 "The Prince and the Pauper" 1937
Deanne and I share a background of rags & riches. While Deanne's story was riches to rags -- from lobster bisque to Mac 'n Cheese after a nasty divorce -- mine was more about pressing my nose to the window of wealthier families, watching them eat filet mignons wrapped with bacon, sipping martinis, nibbling fresh clams. The families just happened to be my own. Because my mother was a black sheep, and mentally unstable, that world was close enough to touch -- but would never be ours. We were not welcome. Deanne and I shared a hunger for what was, or what could've been. That hunger translated into a ravenous drive.
Mr. Ed, playin' chess
We have more in common. Horses.
could
ride horses, and won numerous ribbons in jumping. Her mother (a woman who flat-out refused to cook) was the first secretary of the U.S. Pony Club. Fox hunts and all.
Hideous totes crusted with fake jewels, painted horses, dogs and hunt masters.
Dean Martin's liquid diet
High-strung brown-and-white Jack Russell terriers fat as ticks fed lobster scraps from the table (probably martinis too). That type thing.
Any excuse to summon Sam Shepherd, the ultimate cowboy, man of the West, genius playwright
But my mother gave her heart to Western style riding -- and cowboys.
Real cowboy
Every summer when she was a kid, she'd go to a ranch in Billings, Montana, where she rode and crushed on all the cowboys.
"What're you lookin' at?" Cowboy
She even gave me one of the striped snap-up shirts one of these men had given her when she was young, which she'd kept all those years. My mother the love junkie, who wore jeans and cracked brown cowboy boots to the day she died.
FIRST Q&A!
DEANNE STILLMAN
Deanne Stillman w/Mona, a rescued mustang at Wild Horse Spirit in Carson City, Nevada (Photo credit: Betty Lee Kelly)
RR: What's your favorite way to dine? On horseback? In a five star restaurant?
DS: I like to eat outdoors around a campfire, with my hands. Fire is so primal. It all ties in with the power of place, which is the underpinning of my work. It drives everything. The book I'm working on now,
Mojave Manhunt
, based on my Rolling Stone piece of same name [which appeared in
Best American Crime Writing 2006
], takes place in the Antelope Valley (LA County), ends in a giant conflagration in the desert in which someone who has killed a cop dies after a stand-off with the Los Angeles County Sheriff's Department.
RR: Nice! Ms. Apocalypse. Speaking of deserts, when I think of you, I see the sandy stage.
DS: The desert is my beat. It runs throughout my writing. My motto? "I brake for sand."
RR: We know my mother couldn't cook. What about yours?
DS: My mother was and still is a fantastic cook. She passed on amazing recipes, from cream puffs to Yorkshire pudding and roast beef. I used to make them. Generally I've been into lighter fare the past few years, but I still make a mean roast lamb which I learned from my mom, w/fresh garlic and mint.
RR: Tease! What about your taste for the desert? Does that also stem from your family?
DS: Yes. My father used to read
Edgar Allan Poe's poem El Dorado
to me, among other things. This carried me out of Ohio and to a land of great promise, and I knew I wanted to live there some day. That combined with horseback riding, which I learned from my mom, who was one of the first women to ride professionally on the racetrack -- as an "exercise boy." Riding was also an escape. In my fantasies I would ride with all the great Western characters I was reading about -- Calamity Jane, Jesse James, Crazy Horse.
RR: Calamity Jane! That was my nickname for my mother! I remember one Christmas she tried to make a fancy stuffing. Next thing you know, she's howling in agony because of chestnut slivers stuck deep in her nailbeds. She also never taught me to ride horses. I'm actually terrified of them. I'd rather bungee jump off a sheer cliff than go within a hundred feet of a horse. Do you cook Western style food?
DS: Love to make buffalo stew.
RR: Would you share the recipe?
DS: It's a secret!
RR: Does your diet differ when you're writing and when you're not?
DS: Good question. During the ten years I was working on
Twentynine Palms: A True Story of Murder, Marines and the Mojave
, and also ten years on
Mustang: The Saga of the Wild Horse in the American West
, my diet was the same as when I wasn't writing. Lots of organic everything, a lot of protein. But when I'm traveling and in the field for research, I eat what's there. In the case of
Twentynine Palms
, where I was living for most of the 90s, I ate a lot of bar food -- Happy Hour snacks, "Taco Tuesday." For
Mustang
, I was in Nevada a lot. We're talking casino buffets or in more remote areas, steak and potatoes, fried stuff. I got into eating buffalo then. Buffalo burgers are available in lots of places. I really started liking buffalo meat. Then I found it at the Farmer's Market in Venice and started making stews. It's very lean. No fat. Comfort food's a must while working. I like to bake -- pies, in particular. And I have a sweet tooth.
RR: I saw that with the banana bread! Hey, why do you think people are responding to my desserts with so much enthusiasm? Am I a better baker than cook, or is it something else?
DS: Desserts are so politically incorrect, I think you might be letting people out of jail!
RR: Love it! Always did fancy myself a jail springer what with all my ex-con exes. By the way, I seem to have a hang-up about cooking that feels like residual feminism. In the past. when I'd think of cooking, I'd flash on a fifties housewife stuck in the kitchen, oppressed and miserable. So I just refused. You?
DS: When my parents got divorced, my mother often turned to fast food because she was working then, but when she could, she still whipped up great meals. She always swore by Julia Child. I've always liked cooking and never had a problem falling into the role with boyfriends. I had one boyfriend who liked to cook and especially bake bread -- it was fantastic! Had another one who used to bring pizzas from the family pizza biz...and excellent ones they were! Men arriving with food is a nice thing.
RR: Amen to that. There's a reason one of my exes was a gourmet chef. Were there key places you ate when you were writing these epic books?
DS: There's a great casino buffet in Carson City, Nevada. Used to go there a lot with two of the characters in
Mustang
. The Casino Fandango. While working on
Twentynine Palms
, I used to hang out a lot at the long-gone Casa De Java, the first coffee house in the town. It was run by a Marine and his wife. I was also a regular at Jeremy's in Joshua Tree, which boasted "the first cappuccino maker in the high desert." These places were real lifesavers because the only other coffee available was the weak stuff at gas station mini-marts. The Inn at Twentynine Palms had and still has an excellent restaurant, with homegrown greens in salads and Marine-sized portions of whatever's for dinner, which is always good. Plus nearby Desert Hot Springs has a great Hungarian restaurant. I forget the name. Best red cabbage in the Mojave.
RR: There's a bumper sticker. Hey, has eating every gotten out of hand for you? Especially when writing?
DS: During
Twentynine Palm
s, I gained a lot of weight. I was eating more than usual. I needed protection, I realized later -- a buffer between me and the world I had become part of, having ventured deep into the nooks and crannies of a very gnarly story. I was emotionally raw and the extra layer of protection literally provided some distance. With
Mustang
, sometimes I lost my appetite. Living inside a horse massacre is rough stuff. Then when out on the range with wild horses -there was an immense sense of clam. Everything was right.
RR: That makes total sense. Our first official The Art Of Boiling Water interviewee! Thank you for your time, and for being so frank. Now if you'd only spill your secret recipe for buffalo stew, desert cowgirl! Maybe if I ply you with another banana bread? Or what about peach cobbler? Plum tart? Grapefruit cake? Chocolate Bete Noire? Nothing? You just want to watch me twist in the dusty wind here?
DS: You're making me hungry with that list of desserts! How about something on fire? Cherries Jubilee. My mother used to make that.
RR: I take that as a challenge. A dessert quickfire duel out on the range. Any excuse to purchase a blowtorch. You're on!
And now, a little cowboy tune to send you on your lonesome way, one that captures another side of my own often entertaining maternal Calamity Jane. Enjoy!
Tex Ritter's Blood On The Saddle
If I can cook, anyone can.
RR
xo
Deanne and Bugz, survivor of the 1998 Reno Horse Massacre (Bugz passed away in 2009. Photo credit: Betty Lee Kelly)